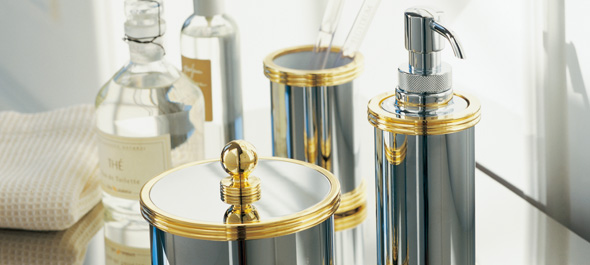 The finest quality products produced by elaborate handiwork of Spanish artisans
Pomd'or started in Barcelona in 1974 as a manufacturer of glass objects for opticians. Later on, evolving into the manufacture of glass for decoration; vases, glass beads, doorknobs...

In the mid '80s pomd'or decided to fuse metal and glass, creating the first accessories collection and in time specializing in bathroom accessories. With the launch of the Kubic collection in the mid '90s pomd'or experienced great growth both domestically and abroad.

In 2009 Industrias Cosmic S.A. took over the manufacture and marketing of pomd'or in order to position it as a leading luxury and elegance brand. This operation is the result of the ROCA-COSMIC alliance to combine synergies and become world leaders in the business of wall mounted accessories, free standing accessories and furniture. Currently, there are some 1,400 stores worldwide.