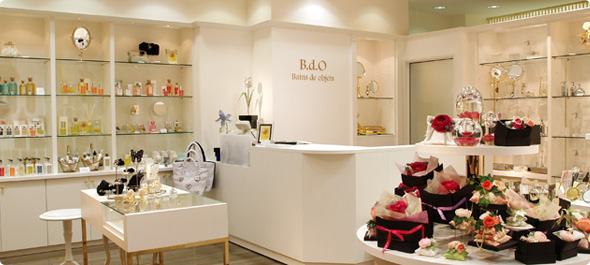 Offering a new lifestyle, a life of luxury
It is a new way of living surrounding yourself with the high quality and well finished interior and accessories in a spacious and luxurious room.

It is a rich and comfortable life style created by being particular about the quality, material and design of items and decorating rooms only with accessories that suit your taste.

B.d.O is offering luxurious and haute couture style products that can satisfy the needs of Luxe generations who are seeking their own unique styles.

B.d.O is an abbreviation for "Bains de objets" which means "small accessories decorating bath rooms" in French.

In a recent high quality living environment, we are starting to care about our bath and powder rooms in the same way as we do about our living rooms.

So to help you create your bath and powder room in the way that you can express your own uniqueness, we are categorizing our products in "elegant", "feminine", "gorgeous" and "cute".

Whether you want your bath room to be sophisticatedly beautiful and comfortable just like staying in a luxury hotel, or to be a special space not only with high functionality but also having high quality accessories and fabrics, or to be a space where you can spend a moment of relaxation surrounding yourself with favorite music and sweet aroma, we can provide products that fit your needs.

B.d.O offers "water living" for people who enjoy such a quality time and luxury space.
Facebook: https://ja-jp.facebook.com/bainsdeobjets